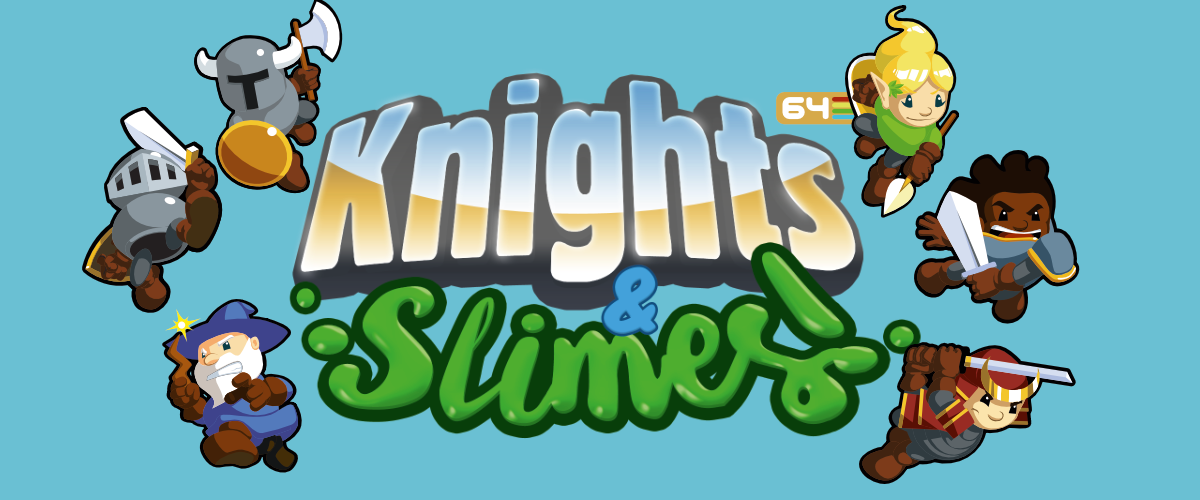 Knights and Slimes 64
V1.02 UPDATE
PLEASE NOTE BEFORE UPDATING
If you have been relying on cart saves then saving over the top of your old crt image will lose your progress. I suggest noting down a passcode for every knight you wish to save progress for on the V1.01 or V1.0 crt, and inputting it in the new V1.02 crt.
UPDATE CHANGES
In-game music extended.
Press 'M' in-game to turn music on/off.
Optimised EasyFlash cart image.
V1.01 UPDATE
UPDATE CHANGES

Ocean format crt included.
High scores bug fixed.
Manual PDF compressed for smaller file size.
Run/stop - Restore no longer crashes.
Note on real EasyFlash hardware: it now works better but is erasing the sector every 8 saves. This is not intended but I'm still working on a fix.
-----------------------------------------------
The kingdom has been overrun by slimes! Choose your knightly hero and clean up!
Knights and Slimes is a brand new, arcade-style platform game for the Commodore 64 (the greatest 8 bit computer of all time).
Features:
Fast-paced, single-screen arcade platforming action.
Random levels so every game plays differently.
8 knight characters to choose from.
4 different world areas to play.
Slimes, monsters, and more slimes!
Epic magic spell power ups.
Gain experience points to earn new abilities for your knight.
EasyFlash and Ocean cart images.
Automatic saving to the cart image (EasyFlash only)
Please note: Knights and Slimes is only available as a .crt file.
Controls:
Joystick in port 2.
Programming, graphics, sound and music by Monte Boyd.
Testing/QA by Louie Dimovski, Patrick Offord (CoffeeCupArcade) and Cora Ren Offord (CoffeeCupArcade).
Purchase
In order to download this game you must purchase it at or above the minimum price of $2.99 USD. You will get access to the following files:
KnightsAndSlimes_v1.02.zip
670 kB